The quest for excellence across the board
A ski resort founded seventy years ago from the twofold aim of opening up the mountain to young people and democratising access to physical activities, Courchevel, a utopian fantasy, is now a place of endless dreams.
A new breed of Alpine resort, pioneering and innovative, Courchevel has become a prestigious destination over the years: a destination worthy of every imaginable superlative where the search for excellence is omnipresent.
This stature sometimes overshadows the treasures of this resort composed of five villages, located at five different altitudes, and offering complementary experiences designed to meet the expectations of all clientele.
A resort that holds all the cards
The Courchevel resort is showing promising results for the 2018-19 season. It has an undeniable array of assets that attract increasing numbers of skiers, tourists and Alpine investors. First and foremost, its location: 80% of the resort is located at an altitude of over 1,800 metres. This impressive altitude ensures optimum snow and sunshine for ski lovers. In addition to the attractive geographic location, 75% of Courchevel is equipped with snow guns, guaranteeing the perfect playground for skiers of all levels.
Other than the dedicated ski areas, Courchevel is continuing to polish its image as a luxury resort by offering high-quality services: accommodation, activities of all types, high-end services... Fans of the resort have the right idea and keep coming back season after season.
The new facilities at the resort include a new 3km toboggan run starting from the summit of the new Ariondaz gondola and going all the way to the Courchevel Moriond snow front.This new ultra-modern gondola has an 8-person capacity and a turnaround of 2,400 people per hour. Built in solar panels provide the spotlights for night-time skiing twice a week.
A new Aquamotion chairlift is also scheduled to be installed.
Lastly, the high-end resort is joining forces with Méribel to a joint offer in a bid to host the next world ski championships in 2023.
Key Trends
The real-estate market in the Courchevel villages was buoyant in 2017, although slightly curbed by the particular global context.
At Courchevel Moriond and Village, new buyers consistently show an interest in new-builds. Supply has considerably expanded while prices have stabilised. This trend can notably be explained by the recent investments that attract an international family clientele. Potential buyers looking for a custom-made aspect, for their part, tend towards renovating old properties.
The Praz village has recently been the site of an exceptional new development, which promises to increase the number of real-estate sales in the coming weeks and months.
The market in the Courchevel 1850 village remains stable, as usual, and investments continue. The local council itself has invested in new reception facilities, while fans of Courchevel regularly head to the heart of the village and invest time and again.
Sales
Cimalpes Courchevel 1550 and 1650 propose a wide range of properties ranging from 12 sq.m to luxury chalets measuring over 300 sq.m. The type of clientele varies: resort stakeholders themselves, clients looking for a family holiday resort, investors who have recognised the market's potential, and the wealthy on the hunt for luxury chalets that are guaranteed sound investments.
This season, Cimalpes is presenting Les Chalets de la Stelvio, three five-story chalets with five bedrooms in Courchevel Village. With surface areas of 320to 360 sq.m, each of these rare properties features a magnificent living area including fireplace, superb suites and well-being spaces.
Again in Courchevel Villages and just metres from the slopes, Cimalpes is advertising six apartments for sale in the luxurious Carré Blanc residence. Another exciting development has opened in the Les Ancolies hotel complex with 14 new high-end apartments available for sale.
Perched at an altitude of 1,850 metres, Courchevel 1850 attracts an international clientele on a quest for luxury. The most stunning properties are located on the heights of the resort, boasting over 2,000 sq.m of timber frames, stone and slate roofs. Buyers are ready to buy at the right price and willingly head for new-builds thanks to the stable and even falling prices per square metre, new environmental standards that help reduce charges, VAT recovery and reduced notary fees. This is impacting the price of older residences and ensures that properties are not overvalued.
new developments in Courchevel
Demand
Sales at Cimalpes Courchevel 1550 and 1650 are currently focused on new properties that best fit clients' expectations. The price difference between new accommodation and more recent properties is approximately 20% in favour of new-builds due to demand and their rarity. Buying a ski property is ordinarily a "lifestyle" choice for exclusive clientèle, but it is becoming increasingly motivated by the return on investment.
Market demand is stable in Courchevel 1850.
More generally, the real-estate price index recorded 1% growth in 2017 for the Courchevel resorts, down slightly on the previous year. This phenomenon can be explained by several cyclical factors related to Brexit, the economic instability and the 2017 presidential election in France. Given the temporarily turbulent context, some of our clients are opting to invest in the high-quality rentals that thrive in the Courchevel ski area.
Rentals
Sumptuous chalets are available to rent via our Cimalpes agencies in Courchevel, Courchevel Moriond and Courchevel Village.
Each offers a unique experience to those looking to spend a few unforgettable days at the heart of the Alps. Spacious rooms, well-being spaces, plush furnishings and cosy decorations are just some of the many assets of our four chalets currently available for rent in our very own Alpine jewel.
Currently, Cimalpes is renting 35 luxurious chalets over Courchevel.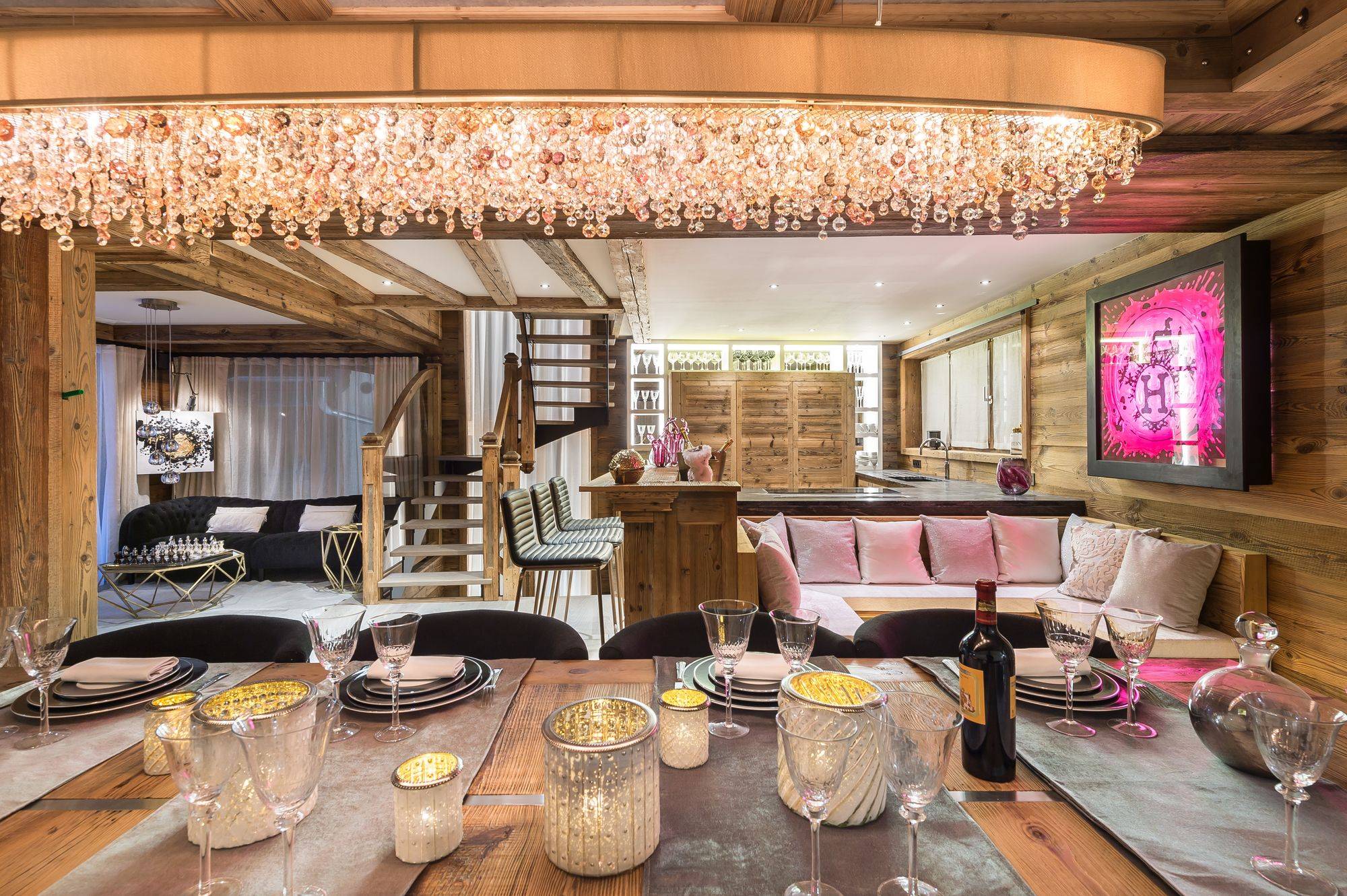 Cimalpes Real Estate Agencies Customer Reviews